SL Jensen recently completed the renovation of an historic Omaha Gold Coast/Blackstone apartment building.
Built in 1912 as one of the Omaha's first luxury apartment buildings, the West Farnam Apartments were home to socialites and dignitaries. With the first residential elevator in all of Omaha, the building was fitted to the nines, including a private maid's stairwell with commodes on each level and maid's quarters in the apartments.
Eight of the nine units were 1,800 square feet with three bedrooms, two bathrooms, a sunroom and a separate dining room. The ninth unit in basement, was occupied by building manager. However, over the years the beautiful building lacked attention and started to deteriorate. The current owners purchased the building in 2017 to revive the building's luxury status and set it up to survive another hundred years.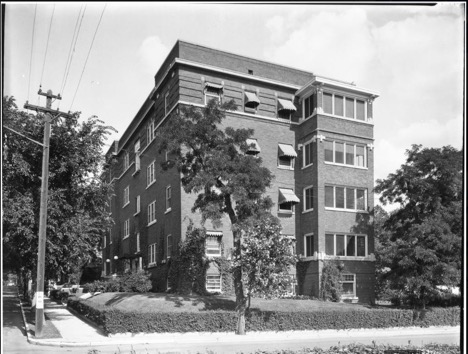 Through the renovation all apartments remained their original size; with eight 1,800 square foot two-bed, two-bath apartments, and a single one-bedroom unit in the basement. The floor plans were updated to include an open great room, a larger kitchen, and in-unit laundry.
The architect and contractor tried to stay true to the design and high-quality craftsmanship of the early 1900s, refinishing the hardwood floors and adding ornate crown moldings throughout the units.
Surprises were found along the process. As with many old buildings, there were issues throughout framing. More exciting surprises found in the walls included an old oversized signature of a carpenter dated 1912 and old, racy postcards from 1914.
The historic, landmark-protected garden in front of the private garages hosted many 'sceney' garden parties. New residents have a chance to live among a treasured history.